"MIDSUMMER IN NEWTOWN" A feature-length documentary – which was selected for the Spotlight Section of the Tribeca Film Festival in 2016.
–
–
A Documentary Group production – A Film by Lloyd Kramer – Edited by Amilcar Gomes – Music by West Dylan Thordson – Director of Photography Matt Peterson, asc – Co-Executive Producers Jody Gottleib, Elise Pearlstein – Executive Produers Paul G. Allen, Carole Tomko, Jeff Skoll, Diane Weyermann – Produced by Tom Yellin, Braden Cleveland Bergan, Jo Budzilowicz – Directed by Lloyd Kramer
–
(Video Trailers Below Slideshow)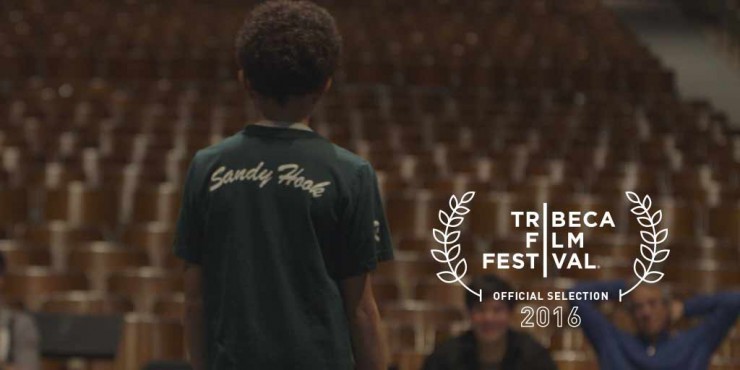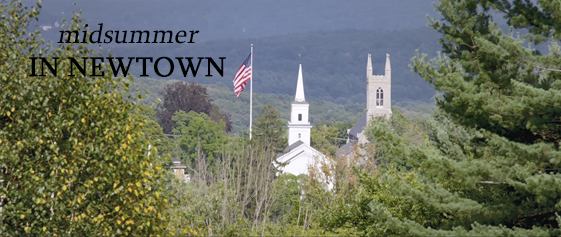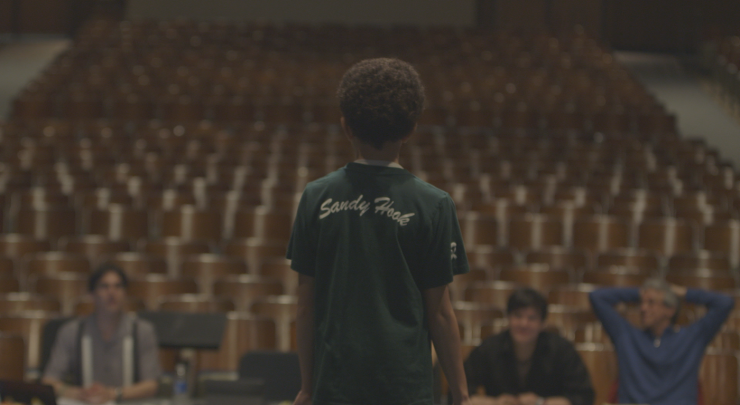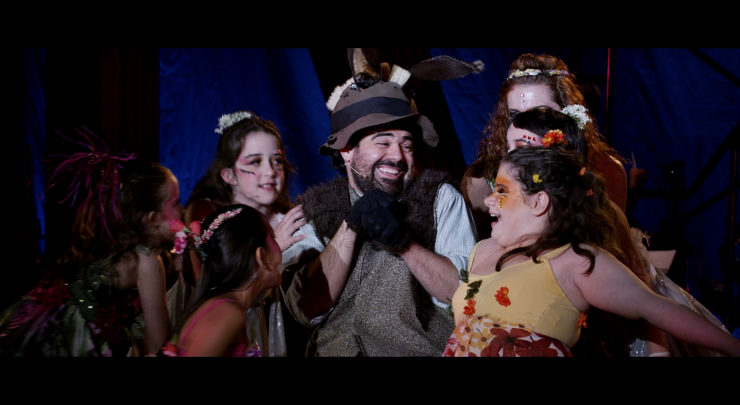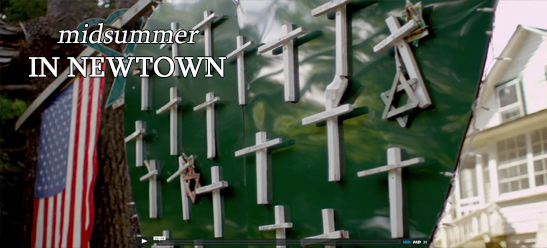 –
More information here.
TRAILER
==========================================================

==========================================================
REVIEWS:
LOS ANGELES TIMES

Tragedy plus art equals catharsis in the documentary 'Midsummer in Newtown'

A group of suburban kids put on a pop-musical version of a Shakespeare comedy — hardly the stuff of stop-the-presses headlines, even when the show's director and composer are Broadway vets. What sets apart the 2014 production "A Rockin' Midsummer Night's Dream" is the ghastly fact that many of its cast members were students at Sandy Hook Elementary School when, a year and a half earlier, a gunman killed 20 first-graders and six staff members.

Following the theatrical venture from auditions to opening night — and a few crucial, heart-wrenching steps beyond curtain call… "Midsummer in Newtown" is nonetheless an affecting chronicle, a snapshot of a town's collective PTSD and a shining testament to the transformative power of the arts. Under the inspired and never-condescending guidance of stage director Michael Unger and composer Eric Svejcar, they dive into their roles, joining a cast that ranges from kindergartners to collegians, as well as adult pros from the New York theater scene. Unger is a delight to watch; in well-chosen rehearsal excerpts, his methods are as captivating as they are productive. But as a depiction of the collaborative imagination and its salutary effect on two Sandy Hook students, the documentary reflects the love and exuberance of everyone involved.
ROGEREBERT.COM
Directed by Michael Unger, this pop musical adaptation of the Shakespeare classic was developed by NewArts, a program launched to enrich the lives of Newtown's youth through their participation in the performing arts. The play was staged in the summer of 2014, less than two years after a 20-year-old gunman killed 20 first graders and six adults at Sandy Hook Elementary School, before turning the firearm on himself. President Barack Obama singled out the tragedy as his worst day in office, and was moved to tears at the mere mention of it. The importance of theatre in the lives of these kids hits home as soon as the show is over, causing Vertucci to solemly note that it feels as if "the play just died." Gregory finds himself at a loss for words and bursts into tears. His mother consoles him with the fact that his tears illustrate how the play gave him an enriching experience that he can have again.
SEATTLE TIMES

'Midsummer in Newtown' review: Sandy Hook students find healing, beauty on stage

"Midsummer in Newtown," a haunting and lovely documentary, is about something very simple: a group of kids, with the help of some talented adults, putting on a play. But it's not just any play — Shakespeare's gossamer masterpiece "A Midsummer Night's Dream," turned into a kid-friendly musical with the addition of original songs — and these aren't just any kids. They are the children of Newtown, Conn.; many from Sandy Hook Elementary School, where just a year earlier a young gunman entered one of their classrooms and killed 26 people, including 20 first-graders.

It's one of the most emotionally charged documentaries you'll ever see (I'm tearing up at my desk just at the memory of it, so you can imagine how many tissues it took to actually watch it). But "Midsummer in Newtown" is also beautifully uplifting; a quiet, gentle demonstration of how art can help souls heal. Director Lloyd Kramer captured the process as a group of Broadway professionals, wanting to help somehow, arrived in Newtown and held auditions, rehearsals and performances. We see the experience, in particular, through the bright, watchful eyes of two young Sandy Hook students: Tain and Sammy, both thrilled to be cast in the play and transformed by its challenges. When it's over, they're bereft. Tain is in tears; Sammy comments sadly, "It's like the play died." Poetry and music can't mend a town's broken heart, but its magic can help the Newtown parents and children move forward; to believe, again, in love.
FILM JOURNAL
How you survive and even make beautiful art from unthinkable tragedy is the thrust of Lloyd Kramer's incredibly moving documentary Midsummer in Newtown. Although often unbearably sad, the film is uplifting, especially when you see the sparkle of delight in the eyes of the kids, doing pretty spectacular justice to the Bard, as well as that of their parents. (Those New Yorkers are indeed to be commended, for what they brought this community as well as their extraordinary skill, professionalism and tenderness.) You sense the infinite relief that they must feel, finally seeing joy on those young faces, and are reminded once more of the amazing resiliency of the human spirit, even in the face of the unspeakable.