TWO POINT OH @ 59E59 Theaters (through Active Theater)
By Jeffrey Jackson
Set Design by Kris Stone, Projection Design by David Bengali, Lighting Design by Herrick Goldman – Susan Nicholson (associate), Costume Design by Kristin Fiebig, Production Stage Manager Ali Hassman.
(Reviews Below Slideshow – Cool Trailer Below Reviews) – Production Photos by Jimmi Kilduff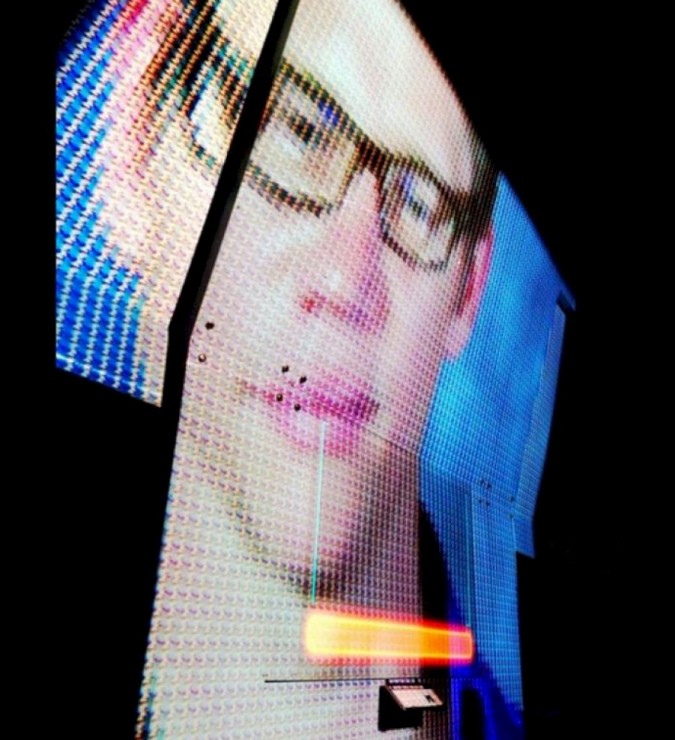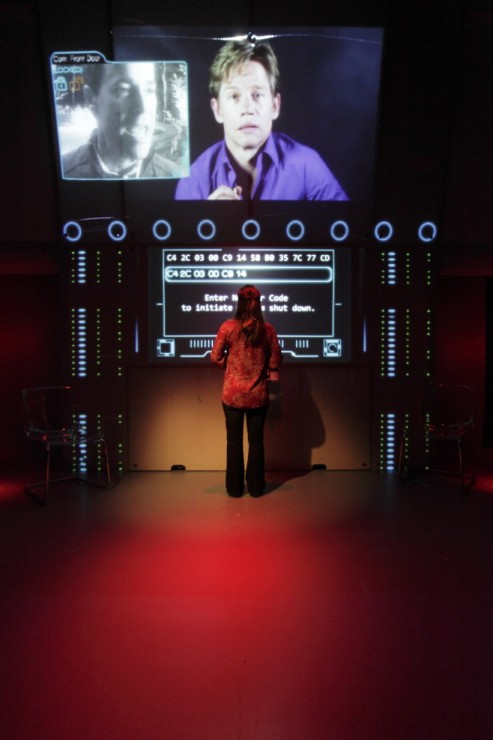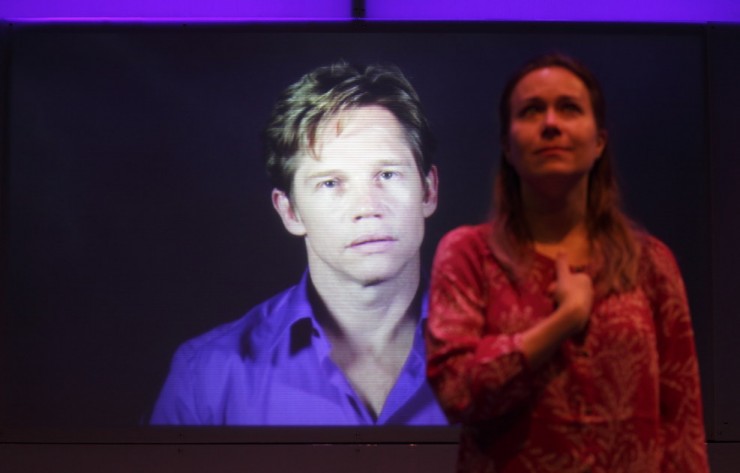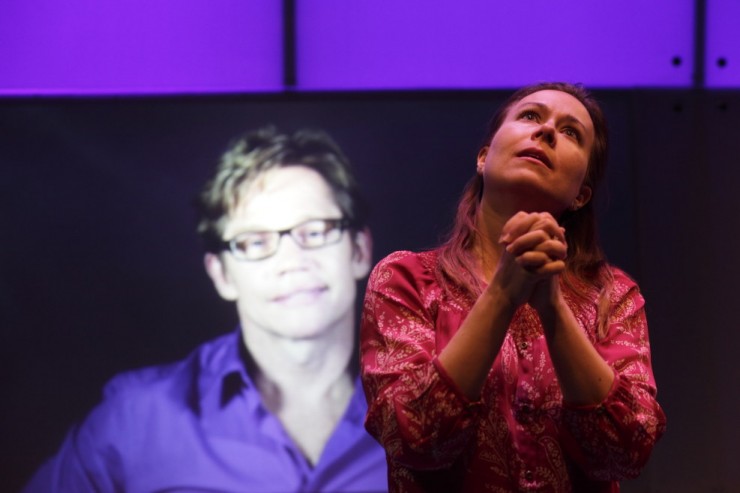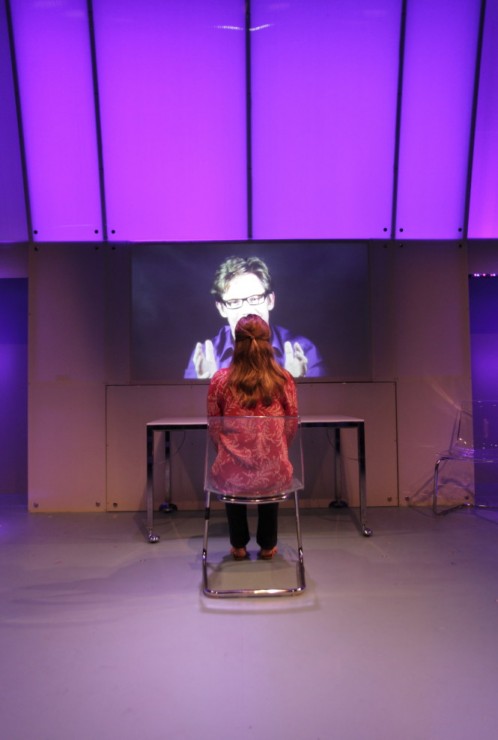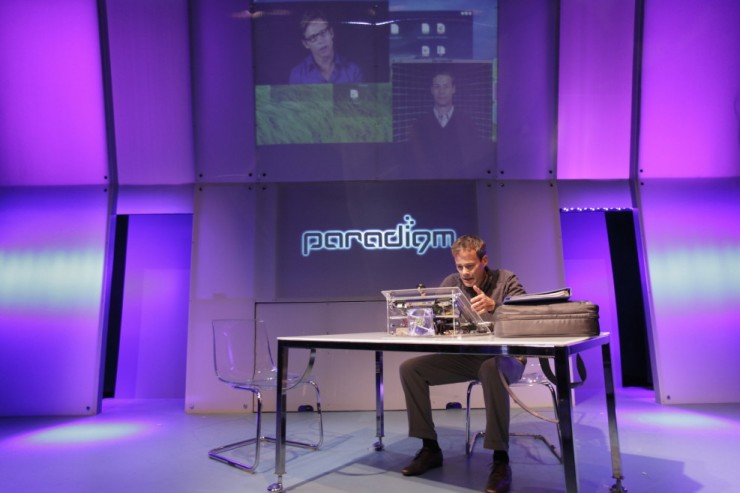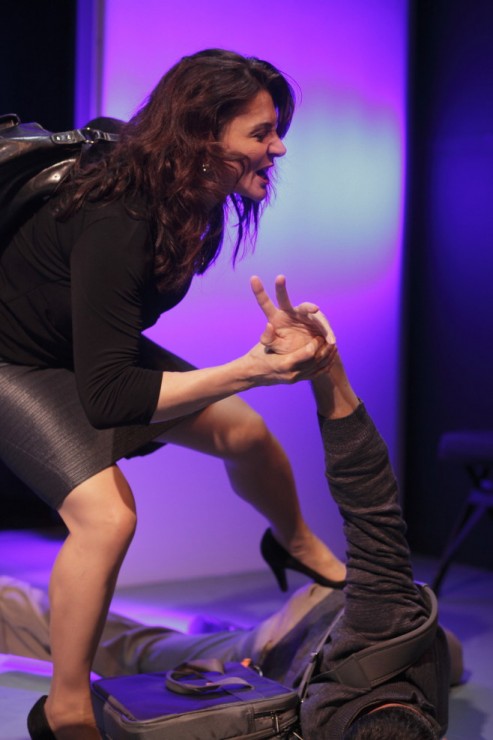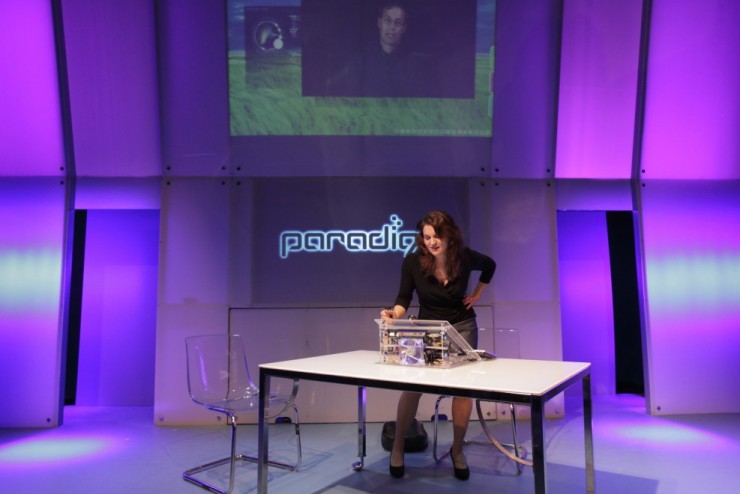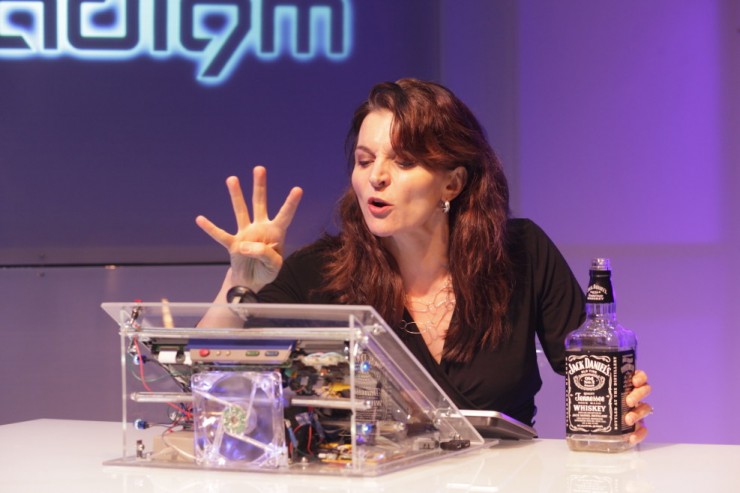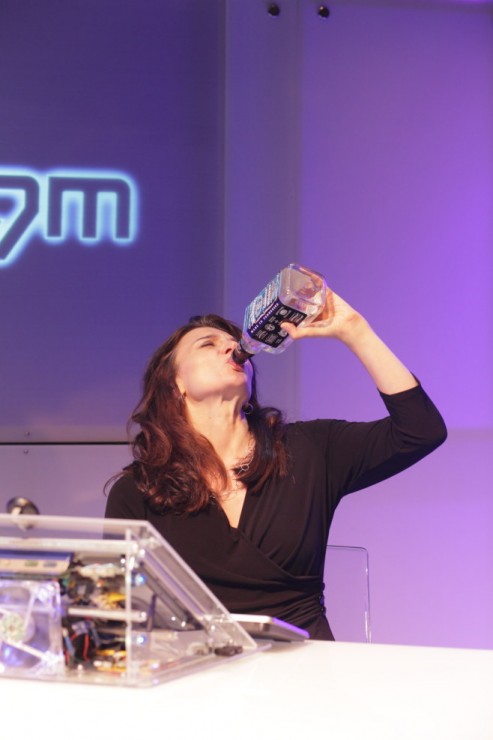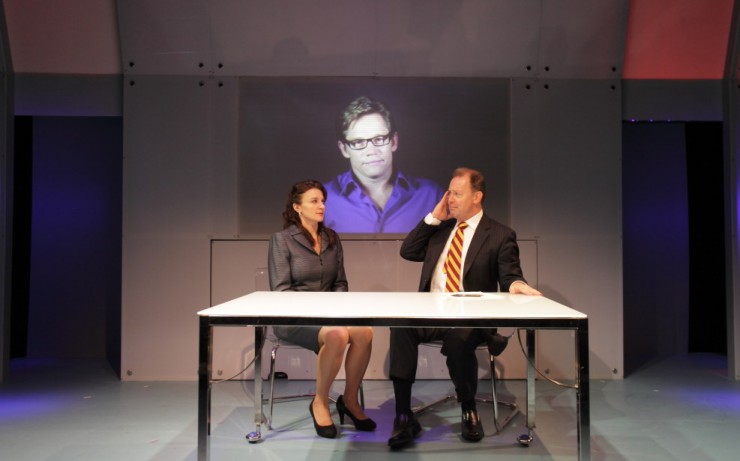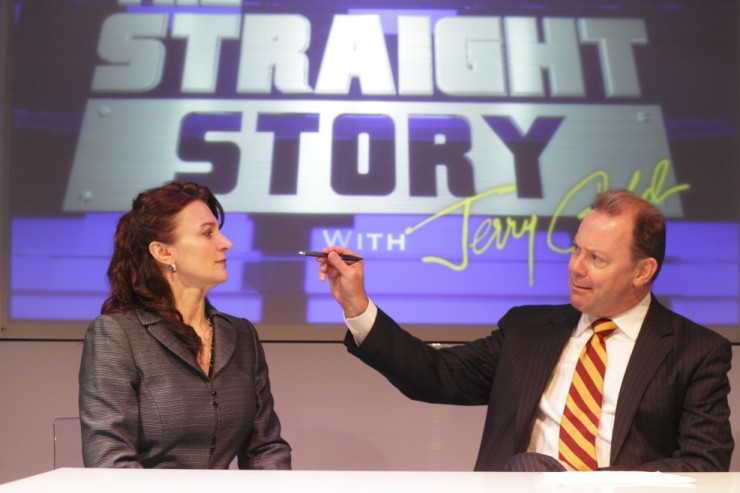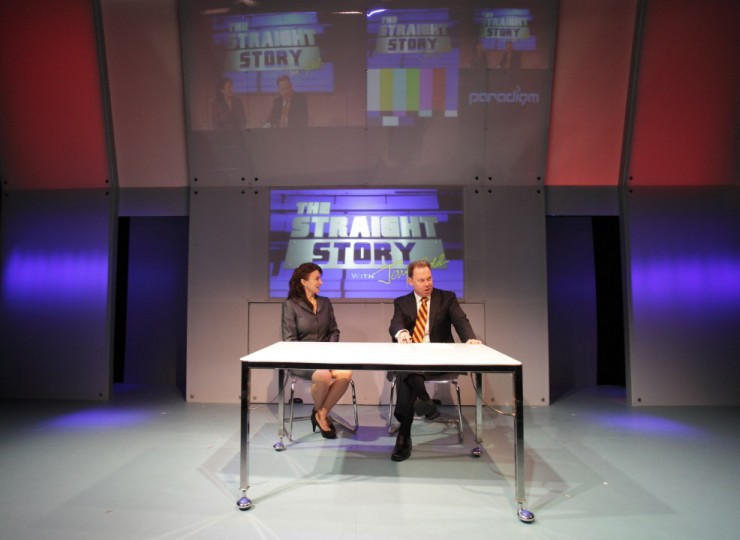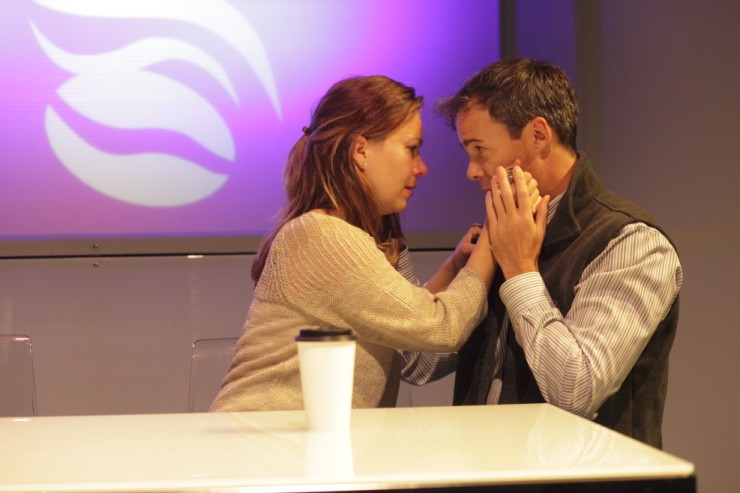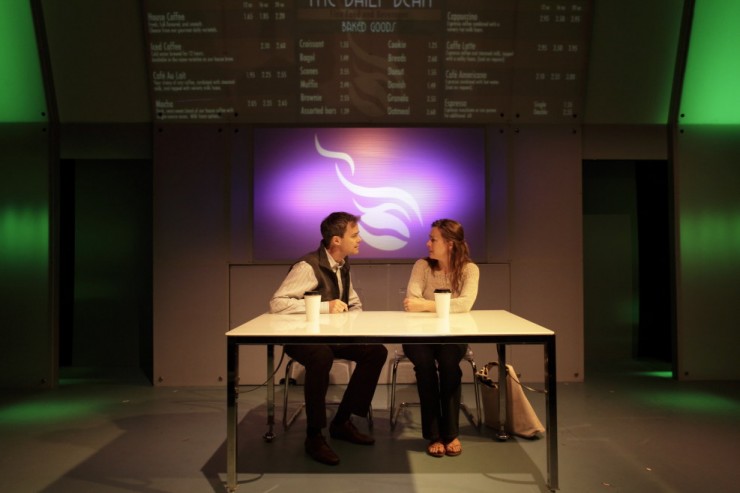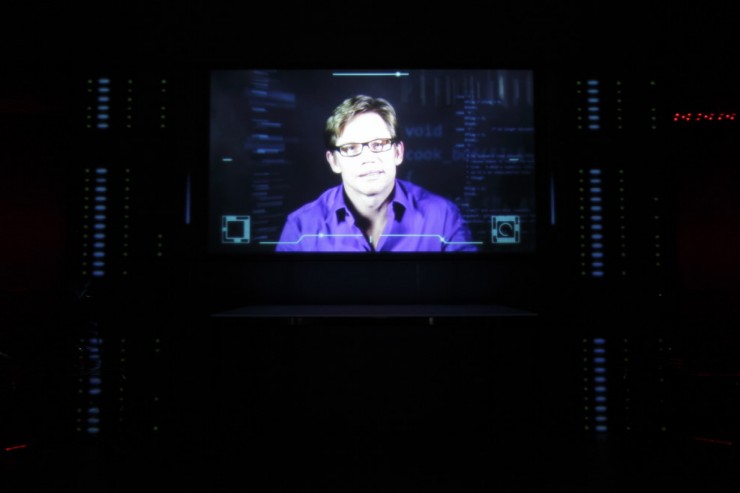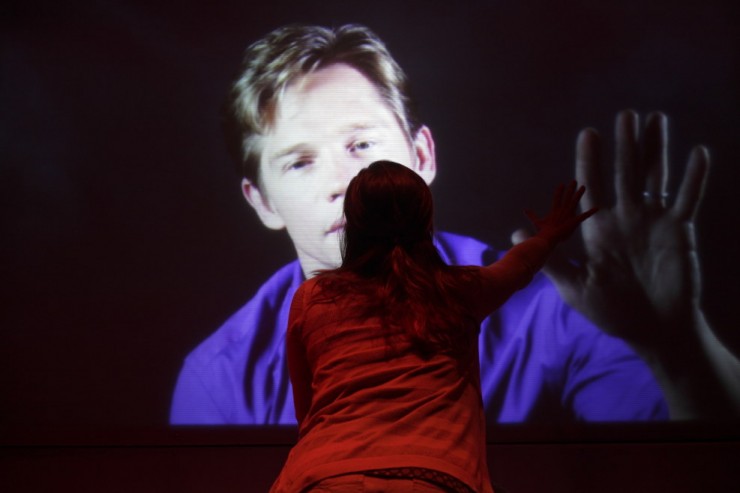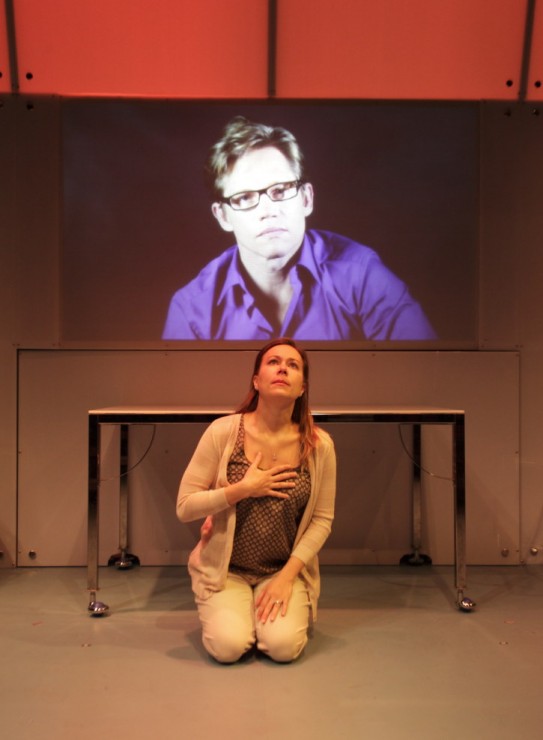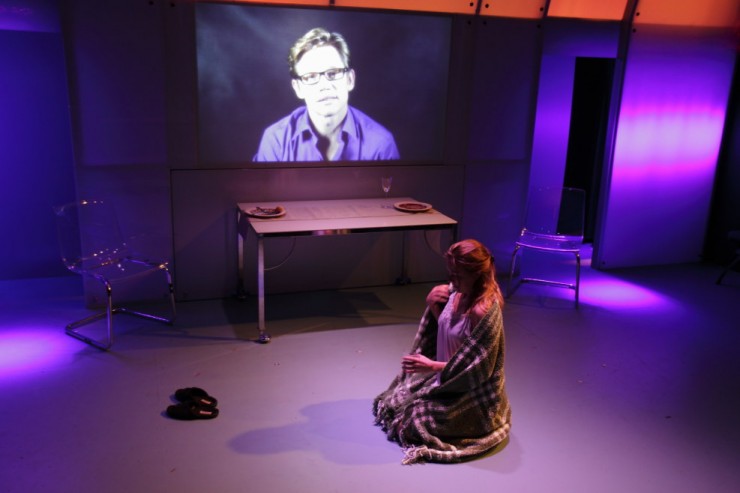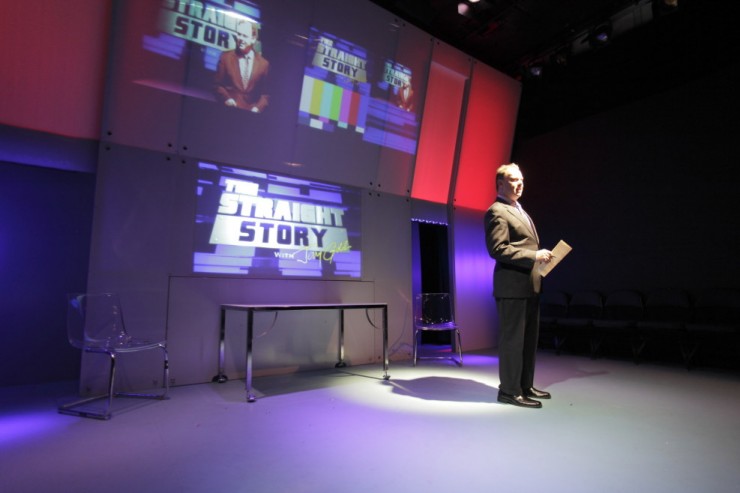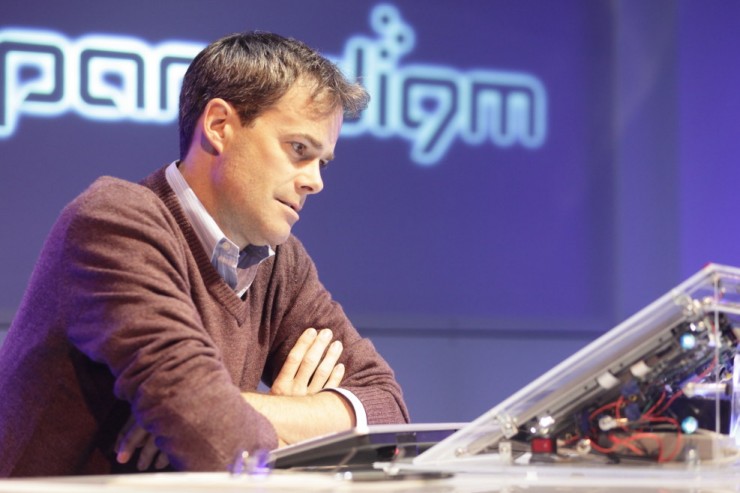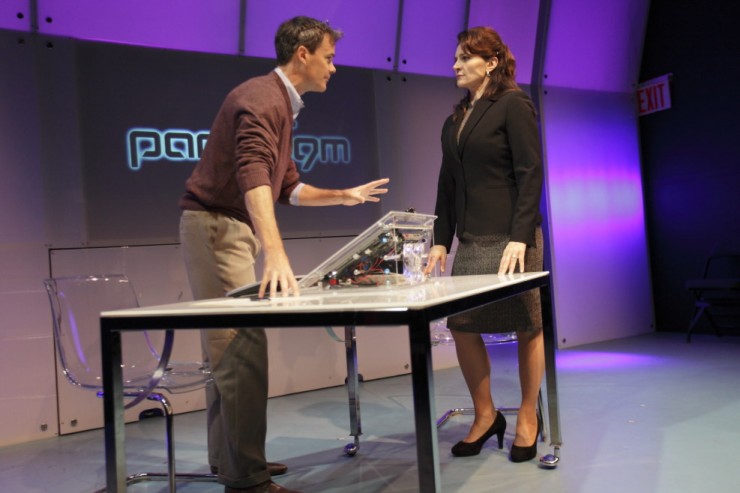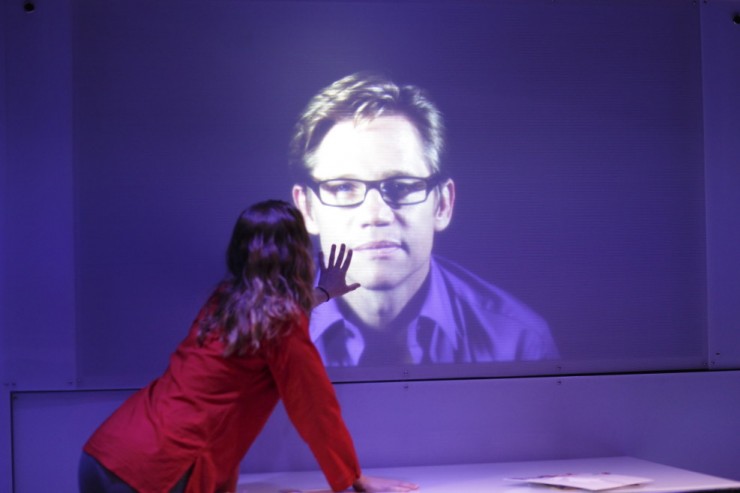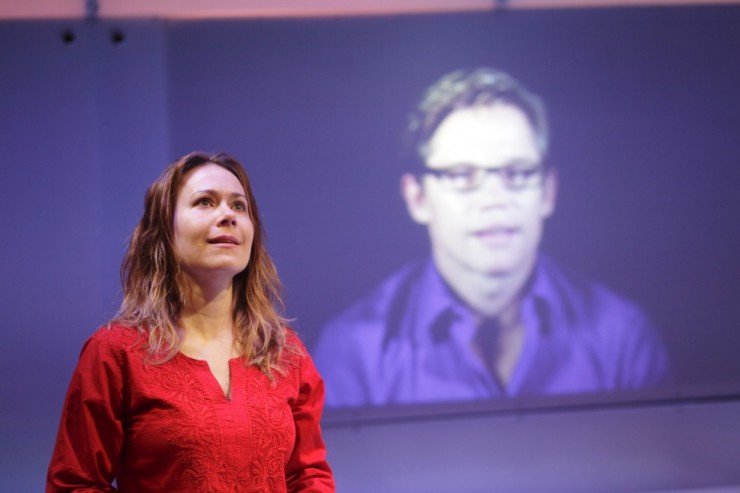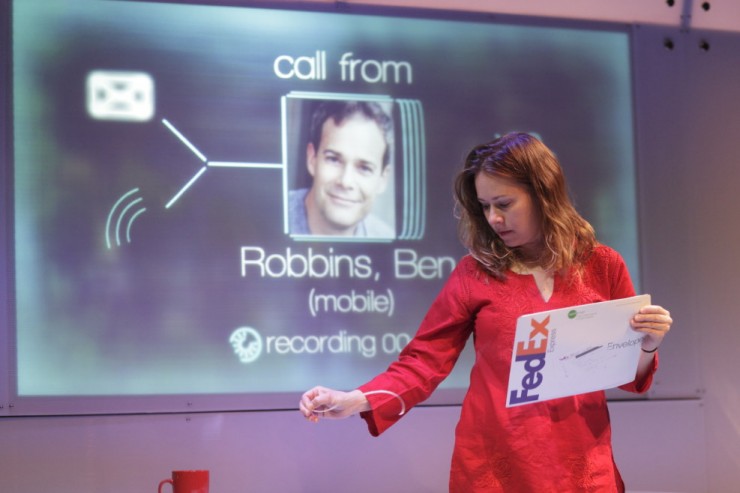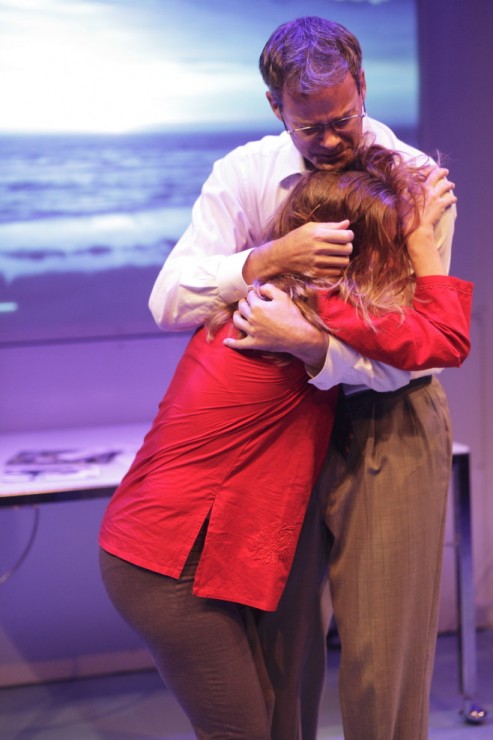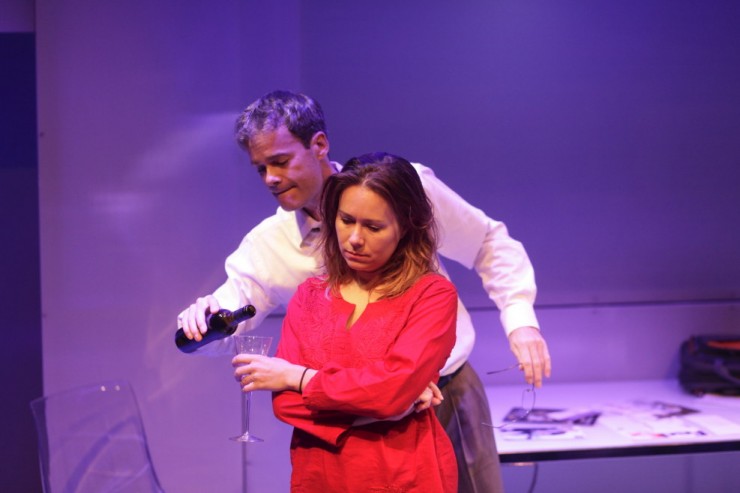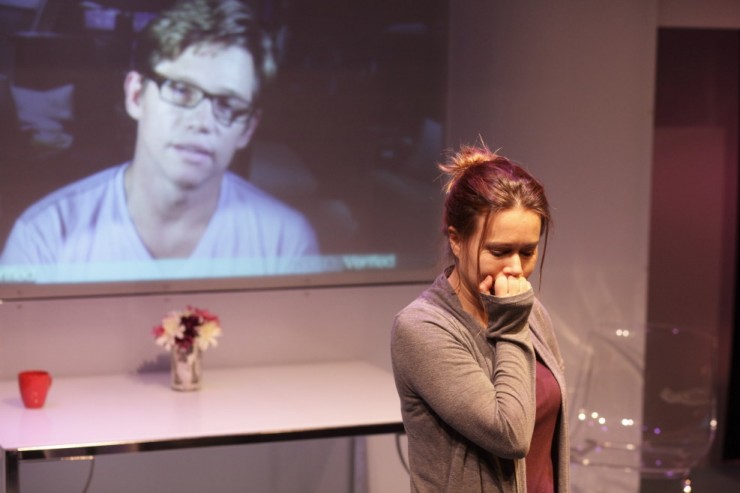 THE NEW YORK TIMES – CRITICS' PICK

Jeffrey Jackson's smart, provocative and often funny play "Two Point Oh," [is] a delightful production which puts a human face on global software despotism. The production, buoyantly directed by Michael Unger, has crack technical contributions, including a digital wall from the scenic designer, Kris Stone, and David Bengali's projections, which enable Mr. Noseworthy, on a huge monitor, to interact with other actors via a live video feed from offstage. Mr. Noseworthy himself is a fascinating blend of boyish charm and blindered techno-fanaticism. But the show's beating heart is Ms. Graves, who reminds us that technological wonders can never approach the warmth of human performance.
THE EASY.COM

Highly skilled actors perform a play that brings morals, technology, and relationships into question. The possibilities of the future of the human race are endless and Jackson exposes our minds to ideas that intrigue and surprise us. To accomplish this feat of futuristic technology the technical production aspects of Two Point Oh are incredible. The creative team engineered a way for Noseworthy to act and respond through a centrally located screen on the set, as we never see him in person throughout the show. In other scenes the opposite occurs, with McGuinness projected onto the back wall while we also watch him in person. Two Point Oh is breaking boundaries with mixed media! Two Point Oh sparks light into recesses of your mind that might not have been utilized in years. Director Michael Unger leads the team well and it was nice to see the creative crew and the cast were on the same wavelength as they joined together to create the world of the play.
NY THEATRE NOW.COM

The relaxed, capable cast is so deftly directed by Michael Unger that the audience is only dimly aware that given the dimensions of the space the actors have pretty much no physical place to go once onstage. There is something post-human about the entire production that extends beyond its virtual cast member. Despite the audience's proximity to the actors, there is a cold distance between us all, and between the characters themselves. Perhaps that is merely a reflection of what constitutes humanity in the twenty first century (after all, a string of code and a flash drive serve as this production's version of Chekhov's gun; it doesn't get much more contemporary than that.
REVIEWS OFF-BROADWAY

Science Fiction is one of the hardest genres to do well in the theater, but "Two Point Oh" handles it beautifully.  Much of the credit has to go to the cast and creative crew that bring a future both immediate and believable… writer Jeffrey Jackson and director Michael Unger let the piece open up and take flight.
NEW YORK THEATER

"Two Point Oh", directed by Michael Unger and presented by the Active Theater through October 20, is largely a satisfying work of theater.The play explores the implications of a virtual human being… in the best tradition of sci-fi masters like Isaac Asimov and Arthur C. Clarke.
WOMAN AROUND TOWN


Two Point Oh, by Jeffrey Jackson, is a truly fascinating play, tailor made for the Information Technology world we live in, yet very much an old-fashioned morality tale. It raises serious issues – about technology, about marriage — but in a humorous, often satiric, way, and takes its audience on an intriguing journey full of surprises. This is a first-rate production, expertly directed by Michael Unger. It's a pleasure to watch it unfold in this intimate theater. The simple but remarkably efficient set design, by Kris Stone, and the complex media projection, by David Bengali, work perfectly. Jack Noseworthy is totally mesmerizing as the larger-than-life Elliot Leeds. Jackson has created a high-level snake charmer — wonky, seductive, manipulative — and Noseworthy makes him absolutely believable and compelling. Michael Sean McGuinness is equally accomplished and forceful as the self-absorbed TV commentator Jerry Gold. And Antoinette LaVecchia chews up the scenery as the hard-driving, take-no-prisoners CEO, threatened by Leeds' reanimation. Overall, however, I really enjoyed this entertaining and intellectually stimulating play. And for all you techies out there, don't miss it!
Our Trailer – created by our playwright…